How small publishers can overcome the obstacles adopting an XML workflow.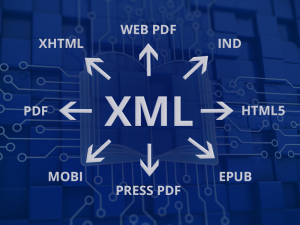 In the fast-changing digital content landscape, every publisher understands the advantages of having an XML production workflow, especially in terms of flexibility, reusability and automation. Advances in technology are constantly diversifying and enriching consumers' reading experiences. The ability to create multiple publication formats for different devices is becoming essential, with universality and interoperability between different programming platforms and operating systems playing a fundamental role. However, some small publishers still fail to adopt XML. Why?
Some of the reasons that lie behind this resistance include:
Lack of in-house technical expertise

– Small companies often do not have innovative IT departments that can help them keep abreast of the most modern production processes.
Complexity

– Implementing an XML-based production workflow is commonly seen as an extremely complicated process that requires a significant investment of time and money.
Quality control

– Small publishers are often afraid of losing control over the quality standards of their titles.
Culture change

– Changes related to the implementation of new technologies are perceived as daunting. Unfamiliarity and diversity often hinder the adoption of new ways of doing things.
For these reasons, and others, many small publishers are still using very manual and laborious methods for composition and proofing, ignoring the enormous benefits that moving to an XML workflow could bring. Such a transition should not be necessarily seen as an intimidating process, but as a seamless implementation that can greatly optimise time and resources.
There are two key developments that have rendered the adoption of an XML workflow less painful for smaller publishers:
Standardisation – XML-based standards (Schema/DTDs) for different kinds of books (DocBook, TEI) and journals (NLM, JATS) have been adopted internationally and have created a commonly shared standard infrastructure for representing content that can be applied to most formats.
Widespread acceptance – Publishing suppliers and solution providers have developed workflows, tools and systems to integrate those international standards offering publishers of all sizes the opportunity to easily comply with the standards and adopt XML workflows for their publications.
With the ability to speed up processes, maintain quality and, in general, greatly improve efficiency and reduce costs, adopting an XML workflow is an opportunity that small publishers should not miss!