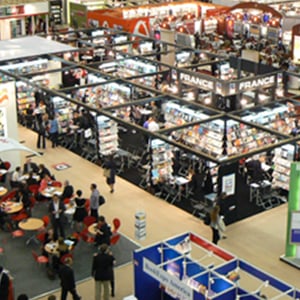 It's that time of year again when the publishing industry come together from all corners of the globe for London Book Fair to share ideas, trade rights and discuss new innovations in publishing. This year the location has moved to the Olympia Conference Centre in London and the fair runs from April 14th to 16th.
A broad range of exhibitors will be represented at LBF 2015, with over 1500 stands exhibiting at the main hall in Olympia, with an additional 580 table holders in the International Rights Centre and Non-Exhibiting Publishers Zone. In 2014 there were exhibitors from 61 countries, with attendance over the three day period exceeding 25,000 people from 114 countries.
This year for the first time the Tech Zone will be located within the main gallery, making new innovations easier to find.
Below are our key highlights for seminars, events and conferences for this year's fair.
Seminars
Throughout the three day period, the LBF 2015 Insights Programme features over 250 free-to-attend seminars covering a vast array of topics, from Children's education, literary translation, the Mexico Market Focus, retail, brands and licensing, to re-skilling the publishing industry and new technologies.
For a detailed listing of the available seminars, see the London Book Fair website.
Top Pick: Technology the Enabler
As the digital sphere in publishing continues to become more central to the industry, the focus on emerging technologies increases. As such there are a vast array of technological innovations on display at the fair, from gaming designers, to app developers and digital workflow solution providers. Many of these new technologies will be demonstrated at the relevant exhibitor stands and during the Technology the Enabler series of presentations located at Theatre@Tech.
Among the presentations and seminars for the event will be Deanta's CEO, Darren Ryan, who will discuss The End of the PDF Proof during his session at Theatre@Tech at 10.30 on Wednesday 15th. The presentation will focus on how, despite the digitisation and availability of content in different electronic formats, for many publishers the traditional PDF file remains at the heart of the proofing process. The talk will explore how utilising a true XML production workflow, at all stages of production, results in greater transparency, accuracy and, more importantly, a significant reduction in production times and corresponding costs.
Events
Top Pick: EDitEur Open Meeting
EDitEur are an acknowledged leader in establishing global standards for the exchange of bibliographic information and e-commerce messages in book and journal publishing. The international organisation has members across 23 different countries, including most of Europe, as well as Australia, United States and Japan.
EDitEur will be hosting their bi-annual member's open meeting at the fair this year on Wednesday 15th. This provides members with an excellent opportunity to learn more about the organisations current projects and hear from the Executive Director, Graham Bell.
To find out more information about the open meeting, see the EDitEur website.
Conferences
During the fair there are also a series of day-long ticketed conferences available to attend. These conferences place a spotlight on specific aspects of the industry, providing a number of key note speakers discussing a range of relevant topics, in addition to presentations, debates and excellent networking opportunities. This year the conferences featured include: Introduction to Rights, Publishing for the Digital Minds, What Works? Education Conference, CMC Rights Exchange and the BIC Supply Chain Seminar.
Top Pick: Publishing for Digital Minds
Mon 13 April, 09:00 – 18:00
In its seventh year at LBF 2015, this conference will focus on consumer engagement, future trends in digital and new content strategies. Some of the key note speakers at this conference include David Nicholls, Author of One Day and Us, Hannah Telfer, Penguin Random House and Rob Newlan, Facebook.
Among the presentations, topics will focus on mobile content and technology, subscriptions, future trends in tech and marketing, global market spotlights, copyright and new models in publishing.