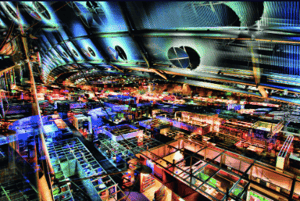 It's that time of year again when the publishing industry come together from all corners of the globe for Frankfurt Book Fair to share ideas, trade rights and discuss new innovations in publishing. This year the fair will run from October 14th to 16th, with the doors opening to the public for the weekend.
A broad range of exhibitors will be present at Frankfurt, with over 7,100 representing their products and services from more than 100 different countries. Attendance at the fair is a key part of the publishing event calendar, with over 270,000 visitors expected to attend.
Below are our key highlights for presentations, events and conferences for this year's fair.
Hot Spot Presentations
Throughout the three day period, Frankfurt Book Fair will play host to a series of Hot Spot presentations, focusing on such subjects as metadata enrichment, digital publishing technologies, and mobile publishing. The Hot Spots are located throughout the exhibition site and will run sessions every half hour.
For a detailed listing of all presentations, see the events calendar on the Frankfurt Book Fair website.
Top Pick #1: Publishing Production: From the Desktop to the Cloud
Hot Spot Professional & Scientific Information, Hall 4.2 – L101
Friday 16th October, 10.00-10.30 AM
Increasing emphasis on digital in publishing has changed the nature of production and resulted in a greater need for more flexible technologies and workflows. Darren Ryan, CEO of Deanta, will look at how utilising a truly collaborative cloud-based work environment, with XML editing functionality, can streamline production workflow, improving productivity, communication and the associated costs.
Top Pick #2: New Developments in Metadata Enrichment
Hot Spot Digital Innovation, 6.2 D22
Wednesday 14th

October, 2.00-2.30 PM
Having good metadata is an essential first step to selling books. Not only does having a metadata solution improve your workflow, but it improves sales and helps people find your books. Topics include conversion to ONIX 3.0, THEMA, keywords, subject classification, and how to concretely streamline the process in order to achieve the best metadata you can with Onixsuite.
Business Club Sessions
The Business club offers an opportunity for members to network and participate in a wide range of seminars and meetings across an extensive array of topics, ranging from children's licensing, to new business models, and digital disruption.
Top Pick: Successful Project Management – Myth or Reality
Hall: 4.0 Business Club Stage
Friday 16
th
October, 11.00-11.45 AM
This session is part of the Uncensored series, aimed at providing frank and open insights into topical discussions in the industry. Speakers Sabine Schubert (Senior Consultant, Kirchner + Robrecht) and Judith Holmes (Director of Business Change, Cambridge University Press) will look at some of the issues inherent in project management when looking to establish new and effective business strategies for the future. Some of the key questions addressed will focus on in-house expertise and training, what mistakes to avoid, and how to achieve business goals more quickly.
Conferences
During the fair there are also a couple of day-long ticketed conferences available to attend. These conferences place a spotlight on specific aspects of the industry, providing a number of key note speakers discussing a range of relevant topics, in addition to presentations, debates and excellent networking opportunities. This year the two conferences are The Markets: Global Publishing Summit and the International Rights Directors Meeting.
Top Pick: The Markets: Global Publishing Summit
Frankfurt Book Fair Business Club Hall 4.0
Tuesday 13th October
In its first year, The Markets is an event focused on showcasing seven different global publishing markets, each with a unique and exciting culture. Given the increasing emphasis on international business opportunities in the now digitally-focused publishing community, the event is a great way to explore new avenues. Influencers from each of the represented markets will speak, providing insights into the key players and new business opportunities. The markets represented at the conference will focus on a particular aspect of their local industry, and the participating nations are:
China: International partnerships and joint ventures
Turkey: Whole publishing market
USA: Digital publishing and innovation
Germany: Scientific and business information
South Korea: Education and children's books
Mexico: Trade publishing
Indonesia Trade publishing
The event is organised by Frankfurt Book Fair and Publishing Perspectives and takes place on Tuesday 13th of October.
For more information, and to purchase tickets for the conference, see the website.
Photograph of Frankfurt Book Fair 2014, hall 3.1
© Michael von Hassel (Verlag te Neues) / Frankfurt Book Fair