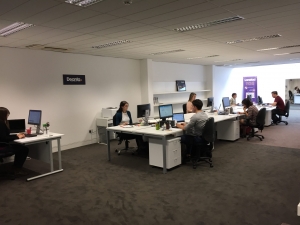 We are delighted to announce that our Dublin team has just moved to a new, modern and larger office in The Seapoint Building, Clontarf, in order to facilitate the ongoing expansion of our onshore copyediting team.
Our new premises, a spacious open plan office specifically designed to increase efficiency and strengthen our team's focus, will create a more productive and collaborative environment that will help us better ourselves and serve our clients at even higher standards.
Deanta's business is expanding rapidly and this new location meets the company's future expansion plans. It marks a new chapter in our history and reflects our willingness to further invest in the editorial quality of our services and embrace new exciting challenges.