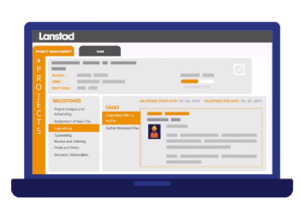 If you haven't seen our short video showcasing some of the key features of the Lanstad technology platform, be sure to take a look.


Lanstad is a fully centralised and collaborative project management workspace for publishing production. The platform enables real-time content editing and transformation, storage of assets, integrated communication and milestone tracking. What does this mean for publishers? Ultimately, the platform allows publishers to reduce cost of labour-intensive aspects of the publishing production process, and improve speed to market. Lanstad streamlines communication, reducing time spent trawling through emails and searching lost files; it enables parties from all over the globe to work in sync in one work space, and directly within the one file; and, with the click of a button, publishers can produce final deliverables at any stage of production.

To find out more, see our technology page, and complete the form to arrange a demo or receive a quote.

Thanks to the wonderful team at Breadnbeyond!