1) What do you do at Deanta?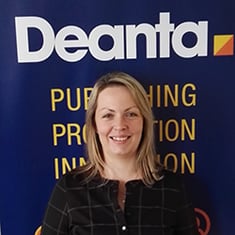 I am a project manager and I am responsible for the production of academic books. My job is to oversee the journey of a manuscript from submission to publication. This involves working closely with freelance copy editors, indexers, and proofreaders, in addition to the editors, contributors or authors and the publishing house.
2) What did you do before?
I have a major in Linguistics and a minor in Information and Communication Studies. I worked in research at academic institutions and in privately owned companies.
3) What's your day at Deanta?
My day at Deanta is always very busy. It usually begins with checking emails and then checking the schedules of my projects. I need to know at what stage each project is in order to plan ahead and make sure that deadlines are met. I spend a lot of time on quality control – making sure that we meet the high standards of our clients.
4) What do you find most exciting and satisfying about your job?
The most satisfying aspect of the role is having a finished product carried it to a very high standard and sending the final deliverables for both print and online publication.
5) What do you find most challenging about your job?
You must be organised, and there's a lot of commitment in terms of time and the workload. Being able to keep on top of everything and being able to meet deadlines is the most challenging part.
6) What inspired you to do what you do?
At the moment, I manage projects for academic publishing in the Humanities/Social Sciences fields. My own academic background is in these areas and I think that it's great that I can work on the books that I used to study from. Working as a project manager at Deanta gives me a great opportunity to combine my academic and professional backgrounds in a way that I couldn't do elsewhere.
7) What are your hobbies? What do you do outside the office?
I read a lot. I also like spending my free time hanging out with my kids, sewing and baking.
8) Can you tell me one fun fact about you?
I am Canadian, I speak fluent Hungarian and I think I am gradually becoming a bit Irish as well! Irish weather hasn't been able to intimidate me so far. I cycle to work every day for 1.5 hours, no matter the weather conditions. Also, the last time there was a very warm and sunny day here in Dublin, I felt like nearly missing the cloudy, rainy and chilly weather typical of this country!