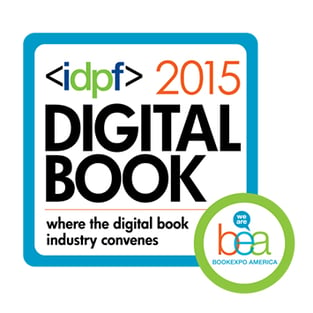 Deanta will be attending the International Digital Publishing Forum (IDPF) conference held at BEA this May 27th-28th. The conference is the flagship digital event in the publishing industry, and the longest running one too.
IDPF is geared towards the entire publishing industry and focuses on issues in digital from mobile development, the management of data and standards to finding new readers. The conference features speakers from all over the world, from authors to publishers and technology specialists, all experts in their fields, who can shed light on the continuing development and disruptions within the industry.
The entire conference includes a variety of seminars over the two day period; however, our focus for IDPF this year will be on the half-day Making Information Pay stream on the Thursday afternoon.
With the increased awareness of and focus on metadata, and the importance of data to enhance products, searchability and monetisation, we strongly recommend attending the sessions. Find out more about the conference and sessions below.
Making Information Pay 2015: How Standards Empower Innovators
The annual half day conference is a core component of the IDPF calendar, and will take place from 1.00 pm onwards on Thursday, May 28th.
The afternoon consists of six different seminars, with key focuses including book industry standards, metadata, digital innovation and ePUB3. The sessions are listed below:
1:15–1:25 – Welcome and Introduction.
1:25–2:05 – The Current State of Book Industry Standards
2:05–2:25 – 5 Cool Things You Didn't Know You Could Do with Metadata
2:25–2:45 – 5 Cool Things You Didn't Know You Could Do with EPUB 3
2:45–3:15 – Keynote Address: Reading Data Analytics: What Reader Behaviour Tells Us About Reading
3:15–3:55 – How Innovation Happens: BISG's 2014 Innovators of the Year discuss the factors and standards necessary for innovation to flourish
Speakers at the event include Graham Bell, Executive Director of EDitEUR, Len Vlahos, Executive Director of Book Industry Standards Group, Liisa McCloy-Kelley, VP, Director of eBook Development and Innovation of Penguin Random House and Bill McCoy, the Executive Director of IDPF.
To find out more information about the conference and to register, visit the IDPF website.
If you would like to meet with our CEO, Darren Ryan, during the IDPF conference and BEA, please contact us on info@deantaglobal.com.