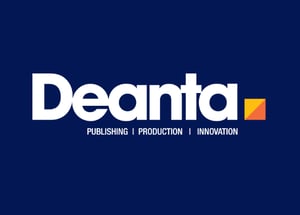 We at Deanta are excited to announce the launch of our company-wide rebrand. We haven't changed our name, Deanta – which means fully-fledged or complete in Gaelic – because it very much reflects who we are as a company, and our Irish origins. However, we have changed a lot of other things.
Our focus has always been on adapting to the ever-changing nature of the publishing industry, and to be innovative and forward-thinking at all times. We felt that it was time to refresh our branding and business model to reflect where we are as a business, and what we are all about.
As part of this launch, we have a new logo and a new website, and have completely adapted our offering to move away from the traditional model of a publishing service provider. Deanta now offers two different streams: production resourcing and technology solutions.
Production Resourcing
Production resourcing is broken into two alternative solutions. Firstly, we have our tailored solution package, through which we build a bespoke service package based on the specific needs of our clients.
Our newest offering, about which we are very excited, is our premium solutions package. Deanta's Premium Solution offers a dedicated production resource – an extension of our client's publishing production team. The relationship is based on a yearly contract with an agreed flat-rate monthly charge. Our team will work directly with publishers, managing their account and all of their required production needs, in a flexible priority arrangement.
This new offering reflects the direction that we feel the publishing industry is beginning to move in. The traditional model of pricing on a per page basis is becoming increasingly outdated with the advent of digital content and the multitude of variables that need to be factored into a publisher's workflow.
To find out more about our production resourcing solutions, visit our website.
Technology Solutions
Additionally, we have rebranded our technology platform from DeantaSource to Lanstad (the Irish word for full stop). The platform is a comprehensive project management platform, enabling real-time XML content editing and immediate transformation, as well as digital asset management, milestone tracking and many more exciting features.
Lanstad provides a uniquely collaborative workspace for publishers, helping to reduce cost, time and effort and improve speed to market. Our technology will now be available as part of our technology solutions offering, separate to our other services.
To find out more about Lanstad, or to request a quote or demo, visit our website.
Our new website makes it easier for publishers to learn about Deanta and the solutions we offer and to request a quote.