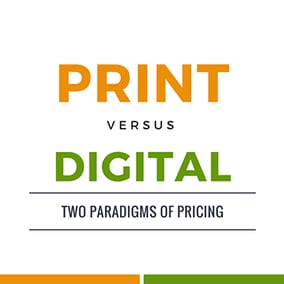 The publishing industry has seen a series of tectonic shifts over recent years, with increased focus on digital content and products. These movements continue to have a significant impact, ensuring a need for the industry to continue to adapt to meet these changes. One of the primary outcomes for publishers has been a move from the very traditional print-based system of publishing toward embracing digital content, eBooks, and the variety of other options that digital opens the door to. The publishing process, therefore, adapts along with it, as digital development is a far more fluid beast, and does not necessarily sit neatly within the phases of production in the same way that print does.
If we then look at the outsourcing of workflow to service providers for the publishing industry, surely that too must experience some disruption. Within this revolution, one of the main areas that could potentially see some shake-up is within pricing models for the provision of services. With this in mind, let's take a look at current and future models for pricing in the provision of services to the publishing industry, in the name of adapting to and meeting the new and constantly evolving needs of the modern-day publisher. Therefore, we are looking at two different paradigms, the traditional/print method and the one based on digital content.
Current and Future Models of Digital Content Production
The traditional model involves charging on a unit basis centred on labour, and in publishing, this comes down to a price per page cost. Therefore, there is a cost associated with each member of the production line working on a page-by-page basis. Historically, this was the simplest and most effective method to reflect and calculate work as printing and publishing produced a physical outcome in the form of a book or journal. Now with a move from traditional publishing in page format to a more flexible content development and digital production environment, is there potentially a better method to quantify the work produced or the time and effort involved?
Publishers no longer want to produce just a physical copy of the book, in either paperback or hard back. They now require a multitude of formats, including a print and web PDF, a POD file, as well as an EPUB file, an enhanced eBook and XML/XHTML. This begs the question: Is the 'page' still the correct unit of measurement for the industry?
If the publishing industry sits on a continuum, with print content at one end and digital at the other, the spread of where modern publishers, big and small, sit will be varied. If the methods of purchase for services are traditional in nature, how can we meet the needs of each publisher wherever they sit along that continuum? Should solutions not then be developed to tailor the needs more closely to each publisher? On that basis then, perhaps a closer look at packaged solutions is in order. This also includes the need for innovation in technology and processes to handle incoming work. We are looking at two different paradigms, the traditional/print method and the modern service.
On that basis then, what are the key considerations for developing new models?
Flexibility:

As the business model of publishers continues to evolve, so do their needs, and with that the outsourcing of services may change from one project to the next. Providers who have the ability to be adaptable and shape their propositions around this will flourish.
Technology:

With the development of technology, which can automate certain manual tasks and speed up processes, more time is left for staff to focus on high-level outcomes. Technology that is modern, effective, and built to cater to publishers and their need for flexibility will be more attractive.
Value through Innovation:

Across the board, innovation is required, in the way pricing is handled, the thought process and approach to projects, the calibre and skill level of staff, and the technology employed to facilitate publisher requirements. Through innovation in all of these areas, service providers can look to provide additional value in their offerings.
People:

A move from the traditional model of process-driven, production lines would be necessary for this new model, with the need to move toward recruiting personnel who are content-focused, fluid and flexible, and highly skilled. With this in mind, there should be an increased focus on professional development internally, and higher standard of recruitment for cross-skilled people, with the capacity to take on roles within a client team that focuses on the publishers' needs as a whole, rather than functioning within a specific area of the production process.
Packaging: An Alternative Solution?
Bearing the above considerations in mind, we must consider what solution will best fit the current and future state of the industry, and therefore meet the rapidly evolving needs of the modern publisher. Fundamentally, it all comes down to how pricing is packaged. With changes to the approach of a business, the way the work is reflected and quantified would change. If the focus is on developing content, rather than producing a book with a per page cost, providers could consider options such as subscriptions on an X number of books per year, or X years of service basis, capturing all of the services the publisher is seeking and pricing accordingly. Or, to take this further, consider packaging their solutions on various scales to suit the wide variety of publisher requirements.
Final Thoughts
We are now in the days of content, which can be produced in varied formats that do not fit the traditional mould of publishing. As the industry continues to evolve, space may be created for a new set of suppliers who are willing to adapt to meet industry changes and model their businesses to accommodate the many developments occurring within publishing. That being said, there may be some resistance, as many publishers are content with current pricing models, as they are easy to quantify and therefore to budget, but are also very rigid, which doesn't leave room to adapt to current and coming changes.
What then are the conclusions, and how do providers take themselves from being legacy service providers of the old model, into the current age and the new model? This would involve the investment of time and money in building up quality and skilled personnel, and the development of cutting-edge, forward-thinking technology that can not only meet the current needs of publishers, but also seek to address the future needs. It is only when the four considerations mentioned above are successfully addressed we will really be in a position to price true innovation in the future management of content.