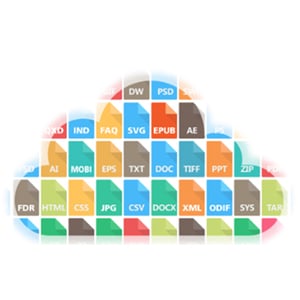 Firstly, in a nutshell, what is a Digital Asset Management system and what does it look like? At a basic level it is a system used as a centralised and organised repository for digital assets – from artwork to media files, and various content formats – providing immediate access to relevant parties. These systems are typically cloud-based, affording instant access to users from any location.
Ultimately, digital asset management offers a solution to businesses producing a high volume of digital assets. Publishing, as a case in point, is a clear example of such a type of business that could benefit from the organisation and easy access afforded by an effective DAM system.
Digital Asset Management as a methodology has been around for a number of years, yet many small to medium sized publishers have yet to incorporate it into their content management plans. Perhaps this is a question of implementation or questionable ROI. Or, perhaps, they just don't quite see where the underlying benefits lie. Let's take a quick dive into the question of these benefits for publishers.
The collaborative nature of publishing means that there are a vast array of parties involved in nurturing a project from idea to development, production and ultimately distribution, and much of this process is handled online now, meaning that file transfers and storage in a secure and protected environment is vitally important. The traditional methods to meet this requirement can be inefficient and costly both in time and money.
So how does a system like this benefit businesses in general, and publishers in particular?
Time
Given the vast array of content shuffled between editorial, production, design and marketing departments for any given title, there are a lot of hands that touch any given piece of content, whether that be production files, finished files, artwork and more. The sheer volume of these files are often stored on hard drives, collecting dust, and very easily lost, or they are being transferred on FTP or unsecure transfer sites between relevant parties.
That is potentially a lot of time wasted. In fact, research shows that the average creative person looks for media files 83 times per week and fails to locate them 35% of the time. By utilising a digital asset management solution this figure drops to as low as 5%.
The organised nature of a DAM solution means that assets are immediately searchable in one central repository, rather than being located on any number of hard drives within the business.
More value out of content
A further challenge for publishers is a lack of visibility of the full suite of their assets. By utilising a DAM all assets under any given book project are transparent and accessible to relevant parties. As a result, publishers have the ability to review existing content and choose to reuse or repurpose it rather than commissioning creation of new content or assets. .
Research company Gleanster's report on strategies and tactics for maximising the return on DAM cites the top benefit, according to 73% of respondents, as being the capacity to re-use digital content.
Accessibility
Greater control over access to and dissemination of content and assets is afforded through key permissions functionality attributed to all files. Conversely this is also a way of ensuring that contacts and other third parties from any location can easily access and download assets once afforded permission, therefore eliminating the often timely process of getting files from one party to another.
Storage of valuable assets in a cloud-based environment not only affords a degree of security for files, should overworked hard drives crash, but they also provide immediate access from any location, allowing personnel to work from home, or on the go.
Additionally this improves the ability to share content across departments and even external or international contacts without the issues inherent in transfer large files by other means.
Metadata
In a business where so much emphasis is placed on the searchable nature of content and assets, the incorporation of metadata against assets is vitally important from a sales perspective. Metadata comprises all of the fundamental information and details that make up a book, from ISBN to title, extent and RRP. In a digital asset environment, where assets are automatically synced with ONIX standards, this can help to ensure all necessary information is correctly tagged. With additional metadata fields allowing for the addition of further important information, publishers can be confident that their assets are rich in metadata.
A further example of this is the ability to tag assets with the relevant copyright information, including any restrictions on use and necessary copyright lines. This can help mitigate the copyright infringement risk inherent in creating new content from assets within the repository.
Distribution and Dissemination
Having a repository for all assets also has the benefit of enabling publishers to distribute and disseminate their files more effectively to third parties, vendors, printers and distributors.
Furthermore, some digital asset management systems have the functionality to disseminate bundles of relevant assets directly to these parties, eliminating further steps in the post-production process. By combining all of the beneficial features of a Digital Asset Management system, with the ability to streamline the post-production process, and facilitate marketing output, there can be little doubt that such a methodology can vastly improve workflow for digital and print publishers.
What Does Digital Asset Management Mean for Publishers?
Ultimately this allows publishing professionals to focus all of their energy on creating and disseminating quality content, without the distractions and time consuming issues of managing and organising that content. Additionally, businesses across the spectrum are more mobile today than ever before. As such, cloud-based digital asset management frees up workers, allowing them to create and store content at any time and from anywhere.
To learn more about Deanta's digital asset management service contact us for a demo on info@deantaglobal.com.